Renegade's Basic Firefly Mod Write-Up


Step 1-- Grab a Phillips screwdriver and unscrew all of the screws on the casing. You don't need to unscrew the cocking mech.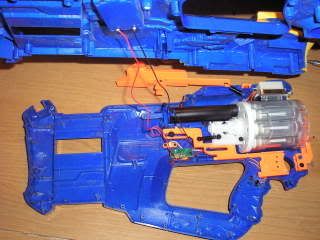 Step2—Unscrew the screws on the plunger tube.(the Black Tube). And pull it out.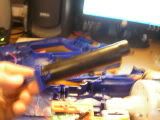 Don't lose this piece!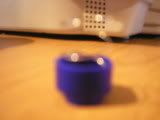 Step3—Unscrew all the screws that secure the turret.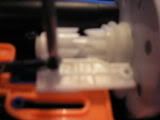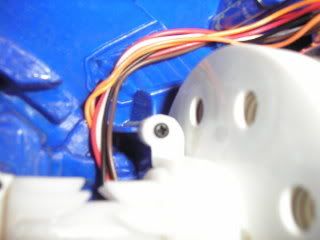 Step4—Take the turret out, and unscrew the triangle of screws, that are shown in the next picture.
Step5—Take out this screw that's shown in the next picture, and pull off the white part.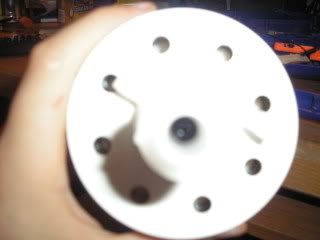 Step6—Unscrew the set of screws shown.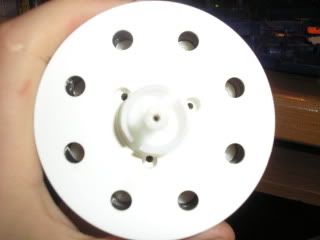 Step7—Use a flathead screwdriver to pry around the edges of the turret, where the clear plastic meets the white, like shown.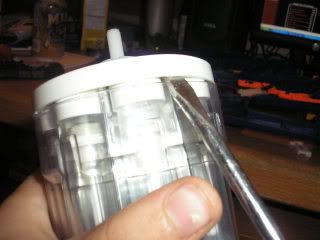 Step8—Once you have taken apart the turret, the 3 pronged pieces, and springs, should fall out, you don't need these pieces.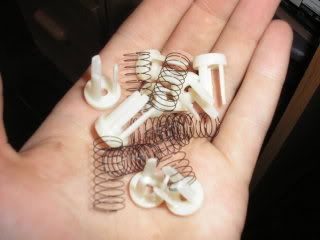 Step9—Take a screwdriver/ other object that will fit in the barrels, and smash, the pegs out of the barrels.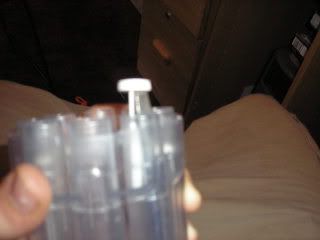 Step10—Now, put the Turret back together. Place the Silver, part, back, and slide the clear casing over the barrels. Then place the white piece over the bottom of the barrels.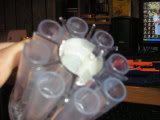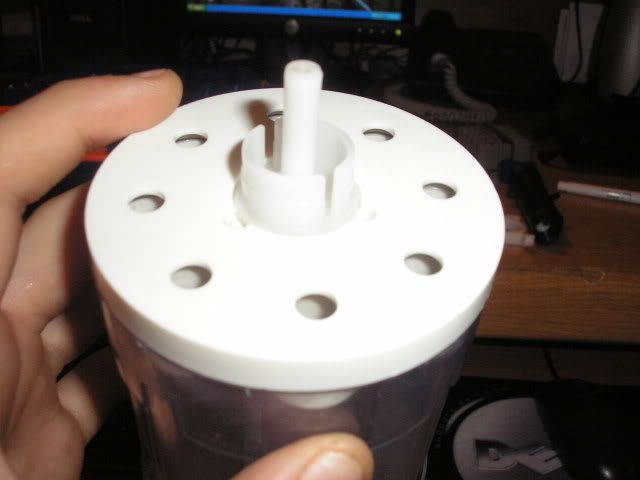 Step11—Now place the white parts back onto the turret, and screw the "triangles" back in., then Screw it onto the case, where it was before.
Step12—Make sure to put this white part back or the turret won't rotate.
Step13—Now it's time to screw the plunger tube back on. Don't forget to Place the spring, and blue piece into the front of the Plunger tube.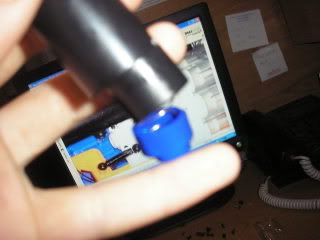 Step14—Place the cocking mech over the blue cocking lever. It Should look something like this.( I took out the light, since I found it useless, to do this simply, unscrew the things, and yank it out.)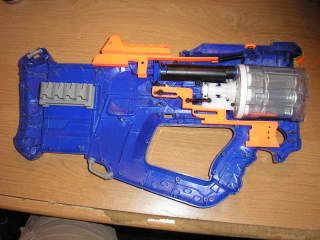 Step15—Make sure you put the front orange piece, back onto the case, and plunger.
Step16—Screw the case back together, load the gun up with some stefans, and have fun.
(Note: Stefans should be pushed down a ways into the barrel, to achieve max distance)